June 13, 2011
DJ BULLSET & DJ DEFLO
おはようございます!!
昨日は夕方16:00からFIVESTAR内でINSTORE DJがありました!!
DJ KAMA君からPLAYは始まり、DJ BULLSETさん、DJ DEFLOさんにもスピンしにきてもらいました。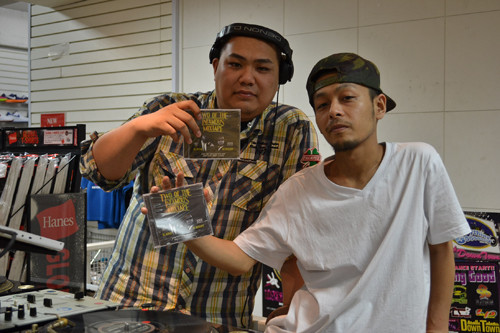 本当にありがとうございました!!
これからもよろしくお願いします!!
期待通りスキルフルで間違いないPLAY!!
働きながらテンション上がってました☆
もちろんこちらもチェックです!!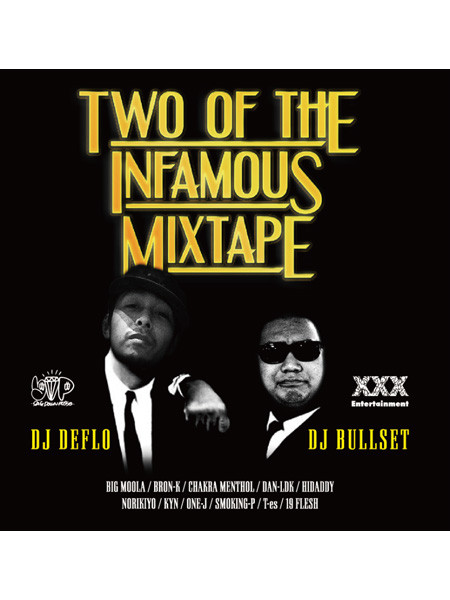 DJ BULLSET & DJ DEFLO / TWO OF THE INFAMOUS MIXTAPE
販売価格: ¥1,575 (税込)
単なるCLUB HITS MIXとは一線を画す、東西強力タッグMIX解禁! 東は2009年に 1st ALBUM "GO ACROSS THA GAMI RIVER"を発表以来、シーンにおいて確固たる地 位を築いた SD JUNKSTA/SAG DOWN POSSEレペゼン、DJとしてもMCとしても全国の 現場でPROPSを得るDJ DEFLO。 そして、西は大阪を拠点に活動の場を広げるXXX ENTERTAINMENTより、これまでにリリースした DANCE CLASSICS/NEW JACK SWING を収録したMIX CDも好調なセールスを記録し、 関西NO.1マンモスパーティー "OSAKASAFARI"にも出演するDJ BULLSETが彼らの主軸となる HIPHOPマナーに忠実 に、かつFRESHな現場感を意識しMIXした全69曲! 更に、SHINGO☆西成、SD JUNKSTA (BRON-K, KYN, NORIKIYO)、M.M.T. (4WD, SMOKING-P, T-es)、HIDADDY(韻踏合組合/HB FAMILIA)、DAG FORCE等、東西をクロスオーバーする豪 華MC陣の録りおろし EXCLUSIVE SHIT&SHOUTを交え、このMIX CDでしか聞けない WORLD PREMIEREなBRAND NEWなど市場に出回る単なるCLUB HITS MIXとはひと味もふた味も違うパーティーピープルも日本語ラップヘッズも必聴の快作!
-TRACK LIST-
1.Intro/SHOUT BY SHINGO☆西成&4WD
2.Freestyle/BRON-K
3.Freestyle/KYN
4.Freestyle/NORIKIYO
5.Black&Yellow/Wiz Khalifa
6.Black&Yellow(T-Mix)/T-Pain
7.Start It Up/Lloyd Banks Ft. Kanye West,Swizz Beatz, Ryan Leslie & Fabolous
8.Gucci Time/Gucci Mane Ft. Swizz Beatz
9.6 Foot 7 Foot /Lil Wayne Ft. Corey Gunz
10.Dawn On Me/Jeremih Ft. 50 Cent
11.Hit It Like This / Jamie Foxx
12.Blow Your Mind/Nicki Minaj
13.Money Money Money / Red Cafe Ft. Fabolous & Diddy
14.Freestyle/ SMOKING-P
15.Kush/Dr.Dre Ft. Snoop Dogg & Akon
16.Pass The Patron/Tony Yayo Ft.50 Cent
17.Stop The Party/Busta Rhymes Ft. Swizz Beatz
18.Show Me Love In The Club / HollaBoyz
19.In Da Club / 50 Cent
20.Poor Ill Rich/50 Cent
21.?????????? / ?????????(WORLD PREMIER)
22.All I Do Is Win / DJ Khaled Ft. T-Pain,Ludacris,Snoop Dogg&Rick Ross
23.All The Above/Maino Ft.T-Pain
24.Whatever You Like/T.I.
25.Knock You Down / Keri Hilson Ft. Kanye West & Ne-Yo
26.Got Your Back/T.I. Ft. Keri Hilson
27.Right Above It /Lil Wayne Ft. Drake
28.Fire Flame (Remix)/Birdman Ft. Lil Wayne
29.MC Hammer/Rick Ross Ft. Gucci Mane
30.B.M.F. (Blowin' Money Fast) /Rick Ross Ft. Styles P
31.Lights Out (I Don't See Nobody)/Fabolous
32.Body Count/Fabolous
33. Lose My Mind (Remix)/Young Jeezy Ft. Drake (SHOUT BY DAG FORCE)
34.Freestyle/DAN-LDK(XXX/ZIOPS)
35.H.A.M./Kanye West & Jay-Z
36.Welcome To My Hood/DJ Khaled Ft. Rick Ross,Plies,Lil Wayne&T-Pain
37.Give It To Em/Akon Ft. Rick Ross
38.Polo/Vado
39.Salute/The Diplomats
40.Suck It Or Not/ Cam'ron Ft. Lil Wayne
41.Wet Wipes / Cam'ron
42.Dipset Anthem /The Diplomats
43.I Really Mean It / The Diplomats
44.Welcome To New York City/Cam'ron Ft. Jay-Z & Juelz Santana
45.Welcome To OSAKA City/HIDADDY (Two Of The Infamous MixTape Exclusive!!!)
46.Freestyle/T-es a.k.a JUGAMEMAN
47.Freestyle/BIG MOOLA
48.Roc-a-Fella Get Low Respect It/Memphis Bleek
49.You, Me, Him And Her/Jay-Z Ft. Beanie Sigel,Memphis Bleek & Amil
50.Murda Murda/Jay-Z Ft.Beanie Sigel&Memphis Bleek (SHOUT BY G.S.M a.k.a にゅらりひょん)
51.I Know What Girls Like/Jay-Z
52.It's Alright/Jay-Z Ft.Memphis Bleek
53.My Mind Right/Memphis Bleek
54.Do My.../Memphis Bleek
55.Brooklyn/Fabolous Ft. Jay-Z & Uncle Murda
56.Where Brooklyn At (Interlude)/The Notorious B.I.G.
57.Hypnotize/The Notorious B.I.G.
58.Brooklyn`s Finest / Jay-Z Ft. The Notorious B.I.G.
59.I Just Wanna Love You(Give It 2 Me) /Jay-Z Ft.Pharrell Williams
60.Freestyle/19 FRESH
61.No Problems/Fat Joe Ft. Rico Love
62.You Be Killin Em/Fabolous
63.Love Come Down/Fabolous
64.Someone To Love Me/Diddy (Dirty Money)
65.I Need A Dollar (Remix)/Juganot Ft. Aloe Blacc,Joell Ortiz, Red Cafe, Maino,Cassidy & Papoose
66.Freestyle/CRACKPOTZ
67.Livin Like Gangstas/Jim Jones Ft.Snoop Dogg&Rell
68.Blow Your Smoke/Jim Jones Ft Rell
69.That Good/Snoop Dogg & Wiz Khalifa
FIVE STARでも絶賛発売中です!!
ぜひチェックしてみてください〜〜☆

 新入荷情報や更新情報などのお得な情報がメールマガジンとして携帯やPCに届きます。  
ご登録はこちら
(モバイルサイトへジャンプします)

 Twitterでリアルタイムで更新情報をお知らせします!どんどんフォローしてください!  
FIVESTAR Twitterはこちら

 TEL : 06-6538-9001    MAIL :
shop@fivestar.ne.jp
fivestarblog at 12:52